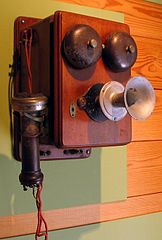 Recently, I was at a team building retreat.  During the retreat, I offered three or four suggestions.  When a comment was made, the facilitator would write the comment on the board.  Many times, what I heard someone say and what he wrote on the board were not the same message or idea.
That was in person, where we were talking face to face.  Now imagine what your readers are receiving when they are looking at your webpages.
Do you take time to read all the content on a page?
Or do you just skim the page to get an idea of what they are talking about?
Did you ever play the game "Telephone?" It was usually played in school or with kids.  It's a game where one person (we'll call her person A) would start by telling one other person (person B) who told someone else (person C) and so on. By the time that the last person gets the message, it is not anything like what person A said.  In fact, even if the original message from person A was very positive (like about how nice someone's coat was), the end message was very twisted from the original (like how person A wanted that coat and was planning on stealing it).
Things You May Want To Know About Clear and Concise Messages
It isn't always easy to stop talking long enough to really decide what you are talking about and what message you want to convey. Fortunately, when online, that is possible. When writing a webpage, for example, I can take as long or as little time as I'd like.  I can read it over and over again. I could also ask other people to read it for me to ensure that what they read actually is what I want to say.
Whether I'm writing or in the midst of a verbal conversation, taking the time to choose "What's the point?" is very helpful. In fact, if we focused our words to the exact message that we wanted to convey, I believe we could use up to half as many words as we do now.
But, it requires forethought. Here's some questions you can use to clarify what you're thinking before you put "pen to paper" so to say…
What is your message?
Have you decided what you want to write about that clearly answers "What's the point?"
What do you want the reader to do once they've read your webpage?
If someone were to refer a friend to your site, how would they answer "What's it about?"
Also, as a final note, consider any unintended information being conveyed. Are you saying anything you would not want read on the front page of Google?
Please feel free to add your comments here about any misunderstandings you have had when someone didn't "hear" what you were saying.
Please follow me on Twitter or visit our community on Facebook.